Dr. Murray graduated from The University of Waterloo in 1996 with a B.Sc. in Kinesiology (Hons). From there he attended The National College of Chiropractic just outside of Chicago, Illinois. Dr. Murray graduated Magna Cum Laude in 2000 and began practice in early 2001.
Dr. Murray practiced in Teeswater, Ontario for over five years before opening the Lucknow Chiropractic & Wellness Centre in January 2006. Dr. Murray is joined in the office by Dr. Ron Goertzen, and Dr. Ryan Small.
Dr. Murray has done additional training in low force chiropractic techniques including Activator Methods, and Pro-Adjuster (by Sigma Instruments). Dr. Murray currently utilizes both methods to treat spinal joint fixations or dysfunction, using these low force instruments on spinal joints, as well as, hips, knees, feet, shoulders, elbows, and wrists.
Dr. Murray utilizes laser therapy using his Theralase laser for a wide range of conditions including neck, mid and low back pain, sciatica, rotator cuff tendinitis, tennis elbow, knee and hip pain and arthritis, plantar fasciitis, and many more.  The laser is used in order to speed healing and tissue regeneration, decrease pain, reduce scar tissue, and decrease inflammation.
Dr. Murray has a special interest and has done extensive training in foot dysfunction and treats many foot or foot related conditions with adjustments (manipulation and mobilization), myofascial release soft tissue techniques, exercises, and orthotics if necessary.
The Lucknow Chiropractic & Wellness Centre provides complementary Gaitscans, a computerized system which scans the foot while walking and standing still, to identify possible foot dysfunction that may play a role in foot, knee, hip, and back pain. If necessary custom foot orthotics are made for the patient, or non-custom orthotics are available.
Dr. Murray has also completed additional training in acupuncture, as well as, soft tissue techniques (i.e. myofascial release techniques, massage), sports injuries, nutritional supplements and herbal remedies. Ultrasound therapy, and Flexion-Distraction Technique are also utilized in the office.
Dr. Murray prescribes rehabilitation exercises to enable patients to aid in recovery, reduce recovery time, and lead to better function and long term outcomes for many conditions.  Postural dysfunctions are assessed and addressed with spinal adjustments, postural exercises, and spinal re-patterning techniques. Lumbar Spinal Stenosis programming is available as well.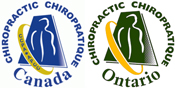 Dr. Murray is also a member of the Canadian Chiropractic Association
and the Ontario Chiropractic Association.